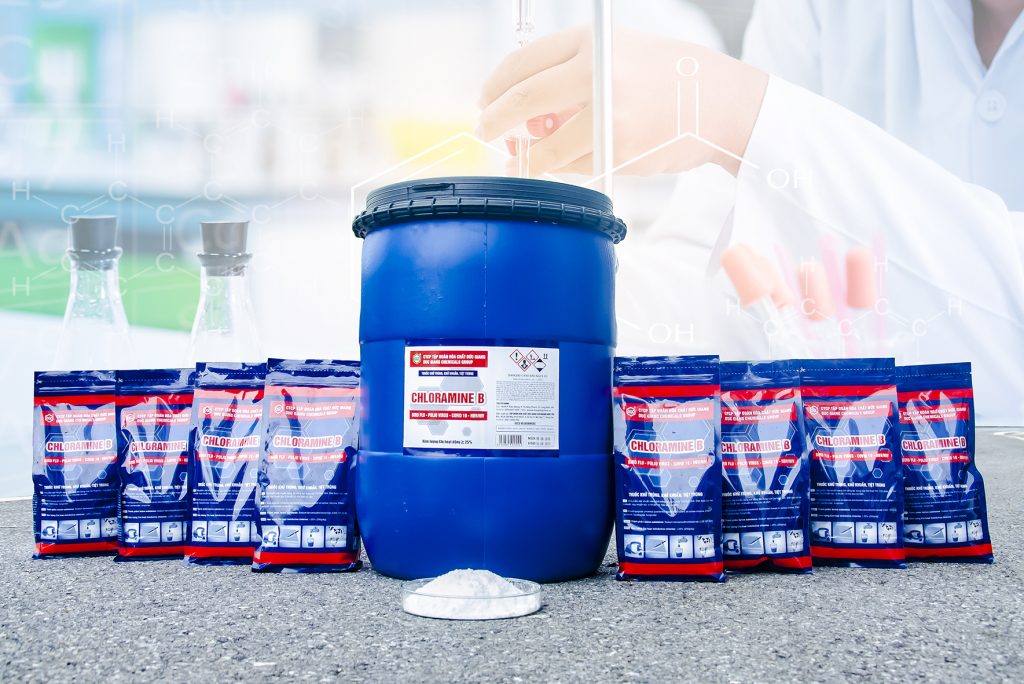 Bactericidal products used on the surface of materials and domestic water in household and medical use. The product kills bacteria under the effect of active chlorine. Kills bacteria: TB bacilli, bacteria with spores and fungi.
Surface sterilization: With concentration of 2% solution and contact time 30 minutes, the product can kill 99.99% of bacteria S.aures, P. Aeruginosa, S. Flexneri, M. Tuberculosis, B. subtilis and C. albicans fungi. Water sterilization: With concentration of 10g / 1000L solution, contact time 30 minutes, kill 99.99% of S. aures, P. Aeruginosa, S. flexneri, M. Tuberculosis and C. albicans fungi and 99.94% with bacteria B. subtilis.
Active substance: Sodium benzenesulforchloramine (CAS 127-52-6). Active chlorine: ≥ 25% (250g/kg)
Instructions for use:
Surface disinfection: Using masks, eyeglasses, and rubber gloves when mixing and using the product, dirty surfaces and objects need to be mechanically cleaned first, then disinfected.
Mix the product with warm water (20-25oC) according to the ratio of 20g of the product to 1 liter of water to get a solution of 0.5% active chlorine. Clean the surface with a rag soaked in diluted solution. Items not soaked in water can be submerged in the solution for the specified time and then rinsed with water. Ensure surface is completely wet when disinfection. Disinfected areas and objects that come in direct contact with food need to be rinsed several times with clean water. Quarantine time after sterilization: 60 minutes
Water disinfection: Make sure the water is filtered during disinfection. Mix 10g of the product in 1000 liters of water and stir well to ensure the product dissolves evenly in water. Wait at least 30 minutes to ensure the product's bactericidal effect before using water.
Warning: Do not use with other substances as Toxic gas (chlorine) may emit. When in contact with acids, toxic gases will be released H302 Harmful if swallowed H315 Causes skin irritation H317 May cause an allergic skin reaction H334 May cause allergy or asthma symptoms or breathing difficulties if inhaled. H335 May cause respiratory tract irritation. H400 Very toxic to aquatic organisms. P102 keep out of reach of children P261 Avoid breathing dust P280 Wear rubber gloves / protective clothing / eye protection, face. P302 + P352 If skin contact: wash with plenty of soap and water. P305+P351+P338+P310 If contact with eyes: wash cautiously with water for several minutes. Remove pressure glasses, if present and easy to remove. Continue to wash with plenty of water and see your doctor P403+P233 store in a cool place. Keep packaging tightly closed.